Cine6 Family Rewinding Tables
Designed in collaboration with the specialists of Istituto Luce and Cinecittà labs this equipment has been developed as a tool for helping Archivists during their first contact with films to be inspected and evaluated.
It can have different features in order to improve and simplify more or less the important phases of film-restoration.
It can be a simple manual winder with one spinning and one freely rotating plate up to a smart bidirectional motorized winder with tension and speed control.
It is a variable and gradual speed film transport, ideal for old fragile and aged archive film.
VERSIONS:
Cine6 – Unidirectional motorized/manual film transport
Cine6-A – Unidirectional pure manual film transport
Cine6-B – Bi-directional pure manual film transport
Cine6-C – Bidirectional motorized/manual film transport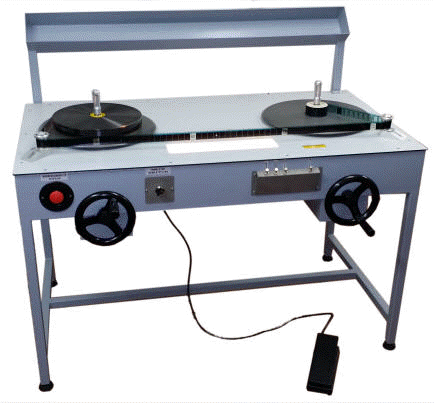 Cine6EVO – Bidirectional motorized/manual with CPU tension control with chasing function
This is the last version and ultimate evolution of the Cine6 family inspection tables: its major update consists of a double CPU controlled logic over an adjustable tension dancing arm. This gives some extra new features that are making "smarter" the system.
Main ones are:
Adjustable and constant* tension controls.
Applied LCD tension meter.
AutoStop at roll ends*.
AutoStop as protection of film integrity*.
Chasing function: the operator can pull the film using one handle only while the "giver plate" (the "giver" plate) will follow the operator's action leaving so, the other hand completely free to carry with the film tactile checkup.
* This features are in the standard inspection table delegated to operator AND operator's experience and sensitivity only.
General Features:
Native compatibility for in-band film formats 16mm and 35mm.

Film sliding rollers with variable bandwidth 16 / 35mm.

600mt film plates.

Extra 'reel effect' pressure plate (used for wrapping physically damaged films to ensure correct winding on the core and misalignments compensation).

Double pair of axes for plastic cores (quick coupling) and film square socket shaped reels.

Light LED box on the working desktop surface.

Handwheels with folding handle (for operator comfort and safety).

Digital motor control logic with torque limiter for film protection.

Manual / motorized auto-switching control.

Quick and customizable spinning down cycle on foot pedal control (automatic function useful for reducing film inertia).

Modular winding/rewinding speed through foot pedal control. Peak speed: 4mt/s

LCD display on the work surface for an immediate visualization of the active functions.

Direction control: Winding (Left → Right) / Rewind (Right → Left).

Winding direction control (direction of the rotation of the pulling plate): CW / CCW. Note: the integrated logic automatically manages the inversion of the rotation directions when the Direction Control is selected.

Giver plate gears control: it is possible to freely choose whether to take advantage of the resistance opposed by the mechanical gears under the giver axis (to avoid the necessity to manually generate the slowdown friction control) or to 'zero' friction it. The 'zero friction' mode is the classic mode required for the most delicate films but requires the manual operator's application of the friction to the giver plate.

HPL laminate worktop.

Shelf (standard: gloves, small items and film cores).
Dimensions of the equipment centimeters (+/- 5%): H80 (worktop height) + 20cm (additional rear shelf space) -L130-P80 (handle retracted)
Power supply: 110 / 220VAC 60 / 50Hz 5A Max (basic equipment only and without accessories connected in cascade).
Minor aesthetic differences* (from the published picture) are always possible due to the craftsmanship nature of this equipment.
*i.e.: different selection buttons, different LCD display color, etc.
Optional available accessories:
Universal Digital Counter (CAT.CINE6-1)
This accessory, composed by a special sprocket for 16/35mm "retired film" compatible, gives in real time the total frames and footage counted position of the film.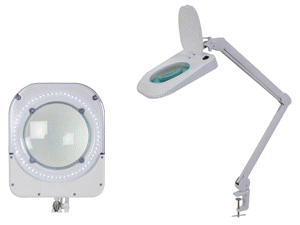 LED lamp with adjustable clutch arm (CAT.CINE6-2)
Special white 64 LED lamp with 5 dioptres lens useful when a film surface enhanced visual analysis is necessary. Its clutched arm is freely adjustable for the most comfortable use.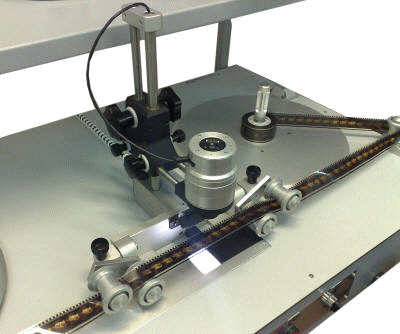 Microscope Film Vision System (Cat.CINE6-3)
This special accessory enlarges onto the monitor screen the operative area maintaining free both hands for an easy use. A special IR camera enhances the fault on the film surface otherwise roughly invisible.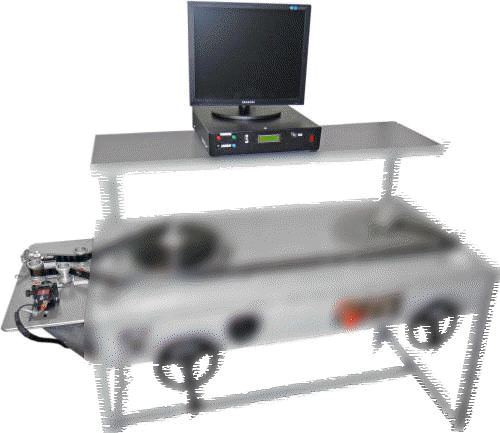 Strobe Unit (CAT.CINE6-4)
This accessory gives a perfectly clear vision of the whole frame area steady and flicker free independently from the transport speed. It is composed by a special stand mounted camera, a LED stroboscopic light and a special video processing unit that ensures, thanks to its "retired film" ready 16/35mm sprocket wheel, the perfect timing for showing the film on the monitor.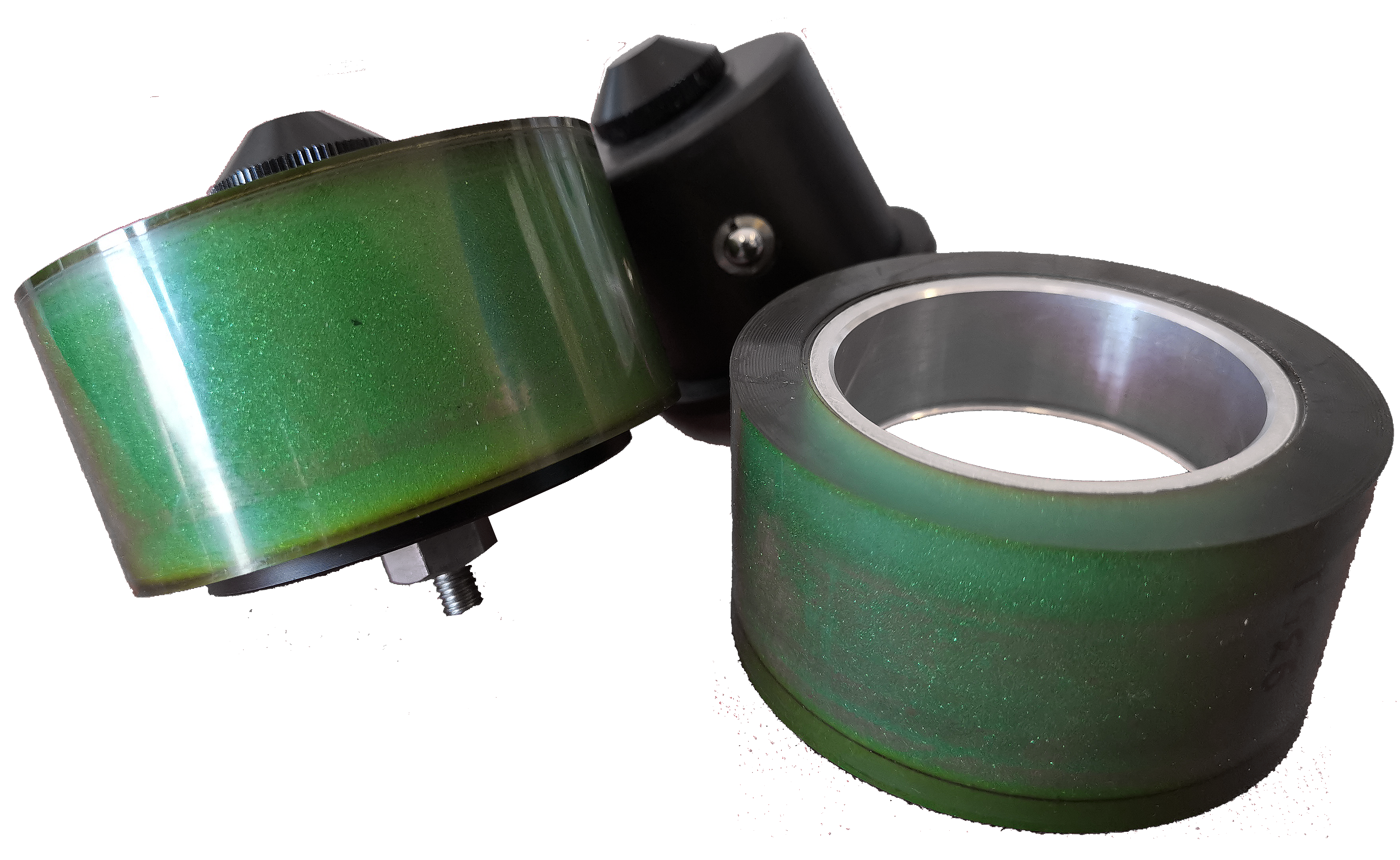 PTR twin rollers and stands set
Reels free running adapter W/8mm shaft